This is the start of my panel project, After a year or so after my major purchase, I decided to try building the frame. When I purchased the panel all there was was a bare frame with suspension and a body. No glass and everything was stripped from it. I found out that the suspension on it was a Pacer IFS with Drum brakes and manual Rack and Pinion steering. So I thought I would try to change it. So with an Idea and some pushing from a buddy of mine I did. This is my first real build of this magnitude, it been slow and long but I enjoy it. And the best thing is...I did it with my own two hands. I bought a Dodge Dakota frame and was going to try to use it in stead of the F1 frame, but I did not like the high kick up on the rear frame, I did not want to lose floor space in back. So I tore out the frame rails and used the F1 frame rail in place. of course now the frame is 4" wider but it really did not matter to me since it looked like I could make new mounting points for the body.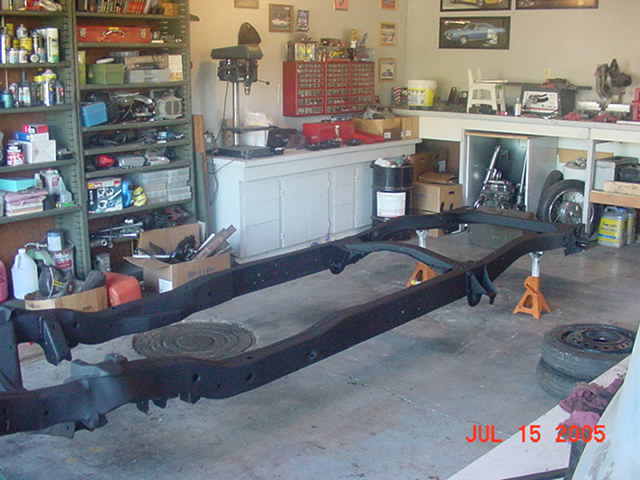 A shot of the front suspenion parts, nothing fancy, though it would be nice to put an aftermarket IFS, I just plain could not afford it.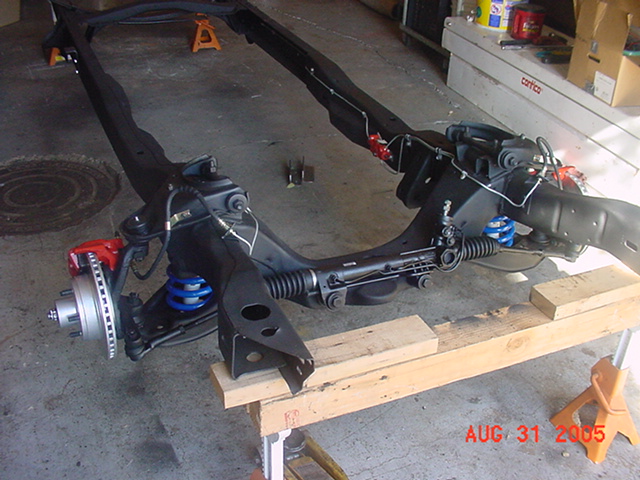 Mocking up the rear axel, a donated 55-56 chevy that was in real decent shape. Used the Dakota axel spring seats, shock mounts and springs.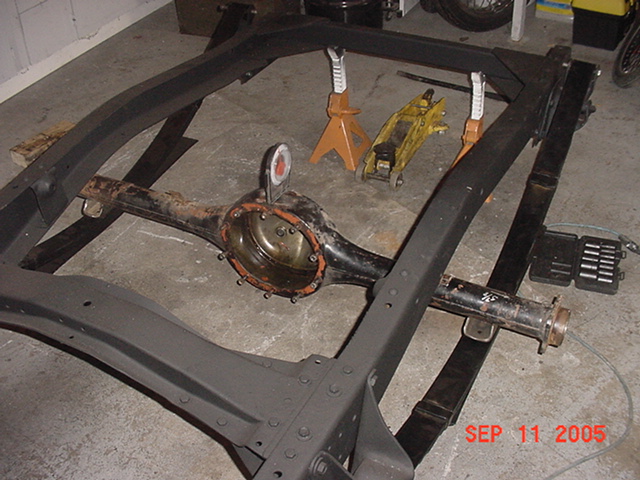 I used this 305/TH350 automatic for motor mount alignment and Drive line length and transmission mount. I got this motor in trade for some work on another vehicle. I used the intake, carb, motor accessory brackets and the transmission for my 350.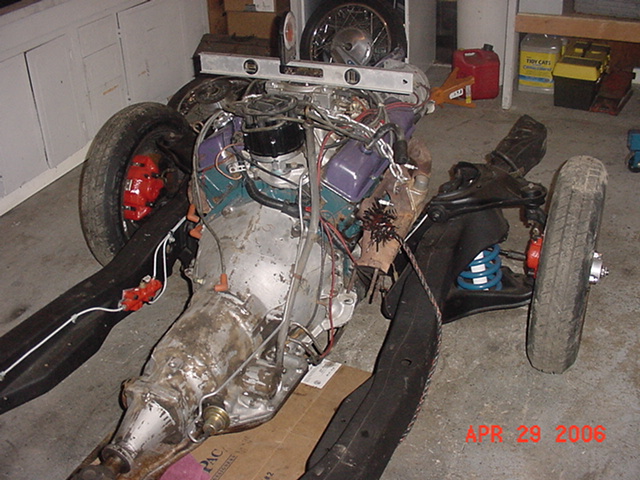 Here is the motor, trany and drive line in place, also note how high the front horns are. I ended up cutting them and turning it upside down, then eventually shorted them accordingly when I eventually set the body and fenders on.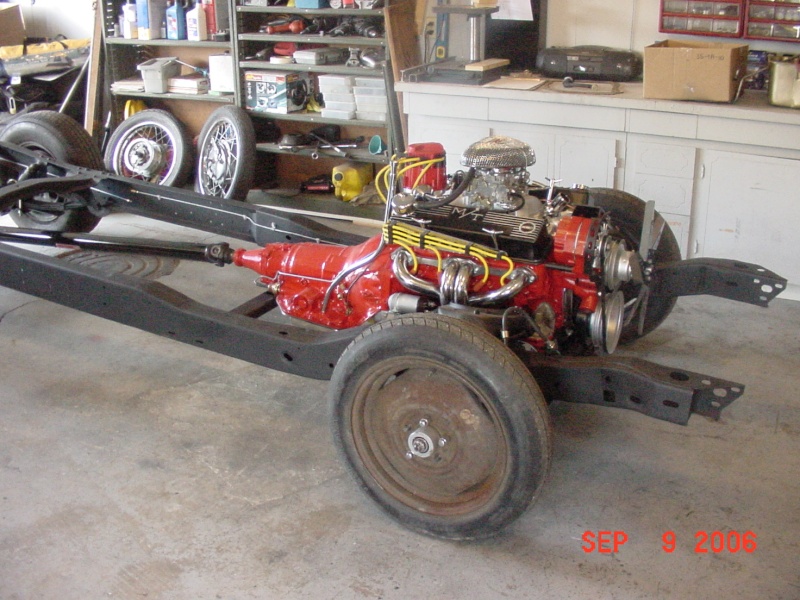 Here I was fabbing a mount for a gas tank, I use old bed frame rails to accomplish this. really seamed light weight but strong.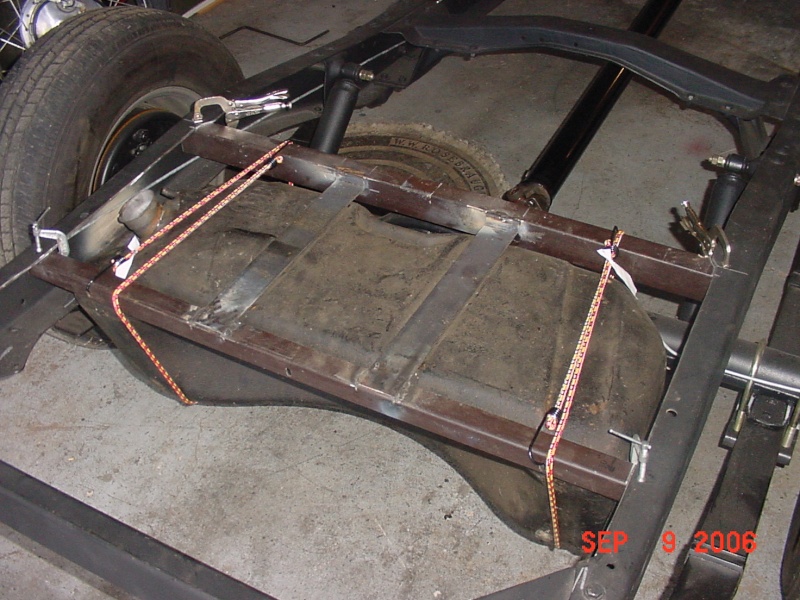 Got my exuast mounted, 2-1/2" with Super 44's.
Then made this booster and brake arm mount to fit on the transmission brace, I dont know how I came up with this design. But there it is.
Got this cool lokar shifter for a decent price, It was for a TH400 but I made it fit.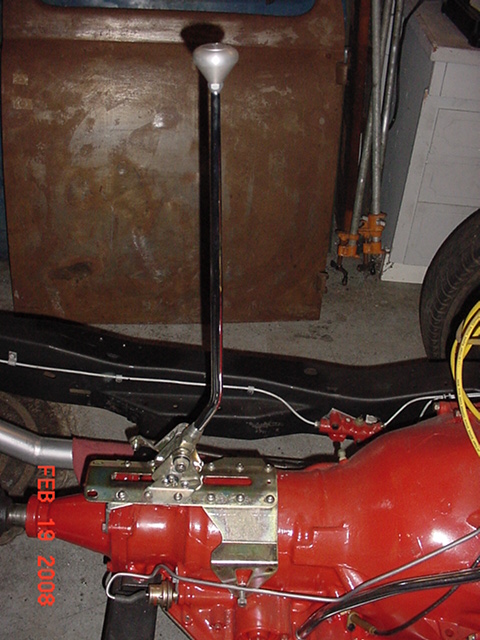 Here is is the final drive train before sliding it under the body to test fit.
I got the body sitting on the frame, I did make some body mounts for it, and made new mounting point for the body, With the lack of fund for the last couple of years has made this project slow down to a crawl. But there is plenty here to do that wont cost much money.
After getting the fenders and hood to sit on the Arms, I got to see what it was going to look like. I guess I am pleased how it is going so far, but I still have a long way to go. I will sit like this till I get my other brackets made for the running board, front cross member and other thing. Once done I will pull the frame back out.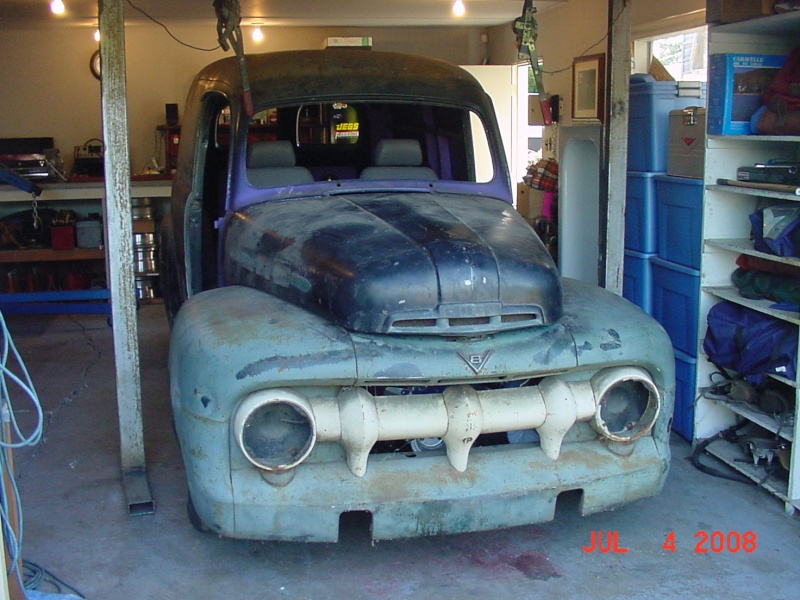 This last summer I got to fab a cross member for the raiator and fenders, front body mounts below the firewall and finish mounting the sway bar. Then take the rear barn doors off as well as trying my hand on some body work. Here are a few pictures from last summer.